Alluma.
Expanding access for
those who need it most.
A rebrand to help a tech nonprofit compete on its own terms.
Services Provided

– Brand Strategy
– Visual Identity
– Naming
– Workplace Behavior
– Employee Engagement
– Environmental Design
– Brand Guidelines
Alluma, a tech nonprofit whose solutions help people enroll in public benefits programs, was pushing restart on its business and its brand.
The new CEO and his team needed clarity and direction to compete against the global tech giants that dominate public sector technology. They needed to reconcile the company's complicated past with its present, and give it a powerful push toward the future.
Emotive Brand identified Alluma's unique strengths and story to help it punch above its weight in the marketplace. We worked across the company to create activation agendas that spur real change. And we led development of the name Alluma to act as a beacon for both employees and clients for years to come.
What We Learned Along the Way
The value of outside perspective.
Inside perspective is a must. But feedback from people experiencing the brand from the outside adds critical insight, emotion, and even language. Conducting research with customers and other partners always pays off – helping energize brand ideas and take them to the next level.
Give ideas the space to grow.
We find over and over again that purposefully opening up the conversation creates a bigger space for cultivating huge ideas. By asking open-ended questions, listening deeply, and keeping a lid on assumptions, ideas that are bigger than we ever imagined have a chance to grow.
Digital dynamism is a must.
The dynamism of animation can give a boost to any brand and add dimensionality to its story. Motion design can heighten a brand's energy, modernity, uniqueness, and memorability.
"I've always felt as if they were on our side and doing everything they could to push us in the right direction."
Katie Tamony, Chief Communications Officer, Alluma
Bringing Strategy to Life
A Dynamic Brand That Sees and Does More
Alluma's people are able to solve harder problems because they work to see every angle and dimension of every challenge. Its brand needed to evoke a personality of dynamism, openness, dimensionality, and optimism while paying off this unique approach to problem solving.
Illuminating a Brand That Sees Further
We developed the name Alluma. An inspired choice, speaking to our client's ability to see beyond the normal limits and solve problems nobody else can. We built a brand and its graphic language around these sentiments. Constantly engaging people, building connections, and seeing solutions from new points of view.

Defining a More Interesting Middle Ground
The logotype and vibrant green mark form a bridge between more conservative players and a set of more whimsical startups in public sector tech. We customized the logotype to be solid enough to compete with the traditional firms while still capturing Alluma's approachability and startup verve.
A Brand Built for Digital and Motion
Inspired by the idea of seeing every angle, the lines of the logo mark were designed to add a dimensionalizing 3D effect even when it's static. Animation adds even more dynamism, opening up closed spaces to powerfully drive home the brand idea.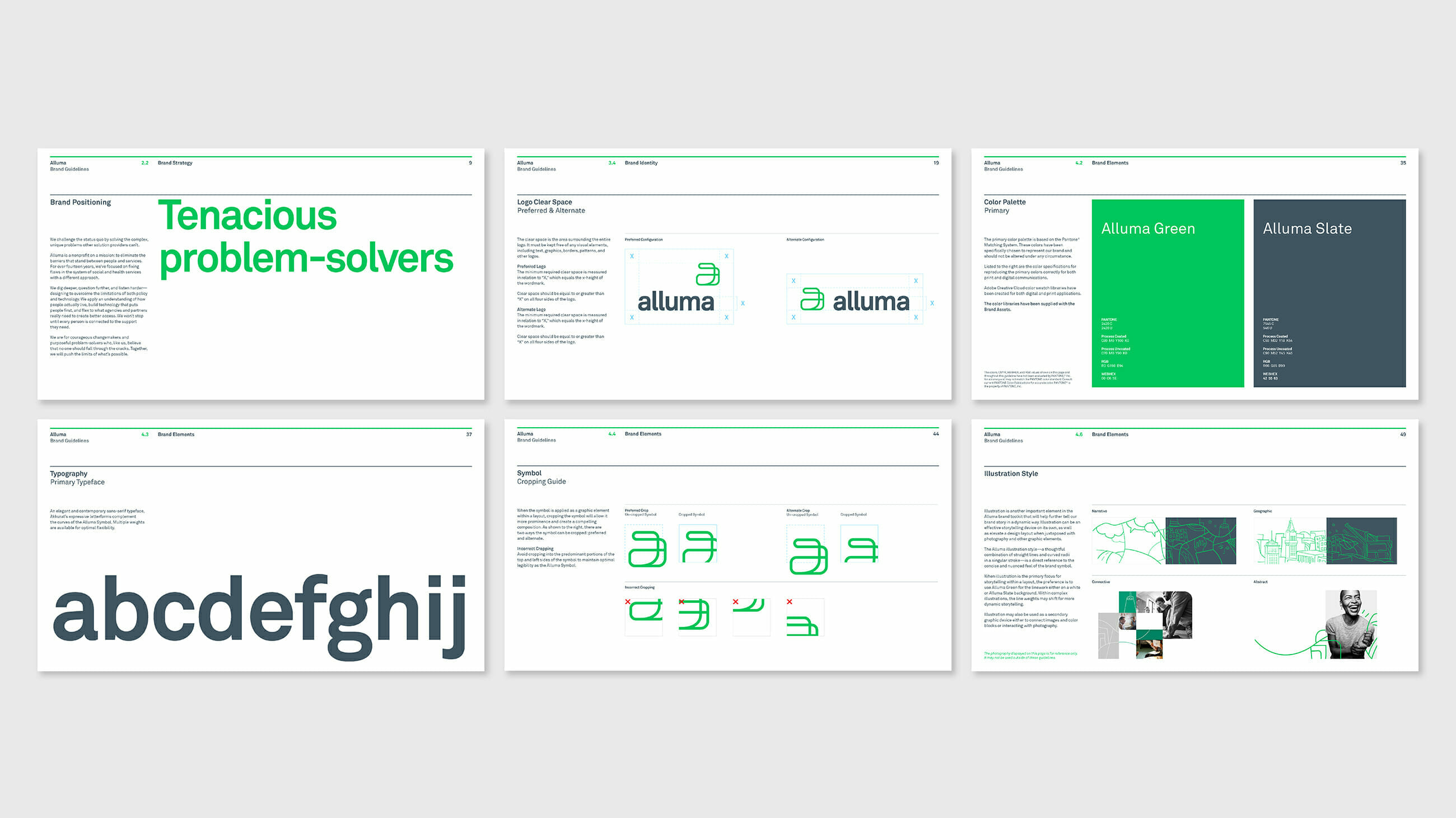 Finding the story in the people.
Alluma's positioning was found not in its solutions or even its expertise, but in its people. Their commitment to seeing every angle to solve every problem inspired the positioning Tenacious Problem-Solvers.
A brand is as strong as its actions.
By embracing brand as action, we helped Alluma jump start every part of its business. Our activation plan, tailored to each of the company's four key functions, drove Tenacious Problem-Solvers from idea to reality.
A disciplined approach to audience.
When growth is a priority, it's tempting to aim at the biggest target. We recognized that Alluma could grow more effectively by targeting a discrete psychographic of tech buyers who embrace the opportunity to do more.
Jiu jitsu-ing a challenge into a strength.
Nonprofit tech companies are almost unheard of. But we saw that Alluma's unusual business model had the power to drive affinity with government tech buyers, based on their common mission: to serve the common good.